Developing Leadership Traits
Many people believe that strong leaders are "born leaders."  Others are convinced that they are developed. I concur with the latter. Development of effective leadership skills happens over time, through activities like formal and informal coaching, mentorship and training. Deliberate introspection and self-improvement are also key factors. Great leaders usually possess most or all of several important characteristics. They tend to be:
Visionary
Confident
Poised
Decisive
Self-assured
Inspiring
Controlled/Disciplined
Savvy
Persistent
Mature
Motivated
Creative
Focused
Curious
Positive
Analytical Thinkers
Excellent Communicators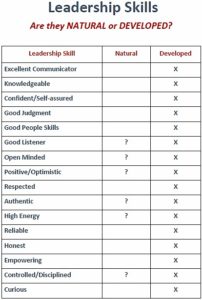 While it is true that some people are born with greater strengths in some or all these areas, it is also important to understand that every one of them can be strengthened and developed with proper nurturing. Individuals and organizations can decide whether and to what extent leadership development should be pursued for themselves and their staff members.
Start by determining where you are and where you want to go. Work with employees to do the same thing. Then a leadership development plan can be created and implemented that specifically addresses individual needs and preferences.
Each of us is responsible for our own development – for achieving our full potential. If your organization does not actively offer leadership development assistance, ask for it. If necessary, take the initiative, and do it on your own. A professional coach can guide you through the process and provide necessary assistance and mentoring.
We are ultimately responsible for our own careers and destiny. We cannot wait for someone else to do it for us.